OUR NURSERY
2010-2011
Dear Nursery Parents and Friends,
The new church year is off to a great start.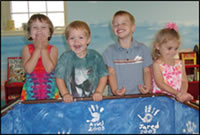 About the Nursery program:
Supervised care and structured community building activities are offered for children from Birth through Kindergarten age in the lower level in the Sarah Joslyn Nursery—our colorful & spacious infant & preschool area. The Nursery is open for 20 minutes before church services begin and 20 minutes after the services conclude.
This year the pre-school Sunday School class, which meets in the Nursery during both services, is focusing on "Celebrating Me and My World." The kids will be learning about the parts of themselves that are special such as their senses, their questioning mind and how their body moves; their world and the creatures in it; and how other people help their world to be special.
The Nursery Parents Advisory Committee (NPAC):
The purpose of the committee is to work with the DRE and the RE Council to make sure that the Sunday morning Nursery program at First Unitarian is the very best we can offer.
Their duties include:
paying attention to welcoming visiting, new, and member families during both services each Sunday morning
insuring that the toys and furniture in the Nursery are clean, in good repair, and appropriate for inclusion in the Nursery
seeing to the management of the physical space in the Nursery regarding safety and appropriate use
Please contact Cheryll Wallace, the Director of Religious Education (DRE@firstuuomaha.org) with your questions about the church Nursery. We would love to talk with you and get to know you better.